Home
Welcome to Soccermom, Since 2006
We are a driver placement agency that assists you with finding safe and reliable transport for your children. We fall between Au Pair and Shuttle services and help you with a unique solution in this space.
Soccermom was started in 2006 and has been operating safely and successfully ever since. We have branches in Pretoria, Johannesburg and Cape Town. We are ripe and ready to assist you in finding the perfect driver!
What we do
We will place a reliable driver (plus car) for you,
on a one-on-one basis,
tailored around your children's needs and schedules.
_______________________________________________________________________________
How it Works
Step 1: You give us your requirement and area
Step 2: And we will source a perfectly suited Soccermom driver (with safe car) for your family
Step 3: You meet with them and tell us if you are happy
Step 4: She/he will then safely chauffeur your children for you!
Apply to get a Soccermom driver here
_______________________________________________________________________________
Rates
Drivers are paid per hour and km worked just for you. Soccermom does not charge a once off placement fee, therefore we reduce the risk of paying a large amount of money for your candidate. We are service orientated agency and will continuously try to ensure that your lifting needs are met.
See our rate card and handy quote calculator here

Let us help you find the right Soccermom driver to keep you and your family moving!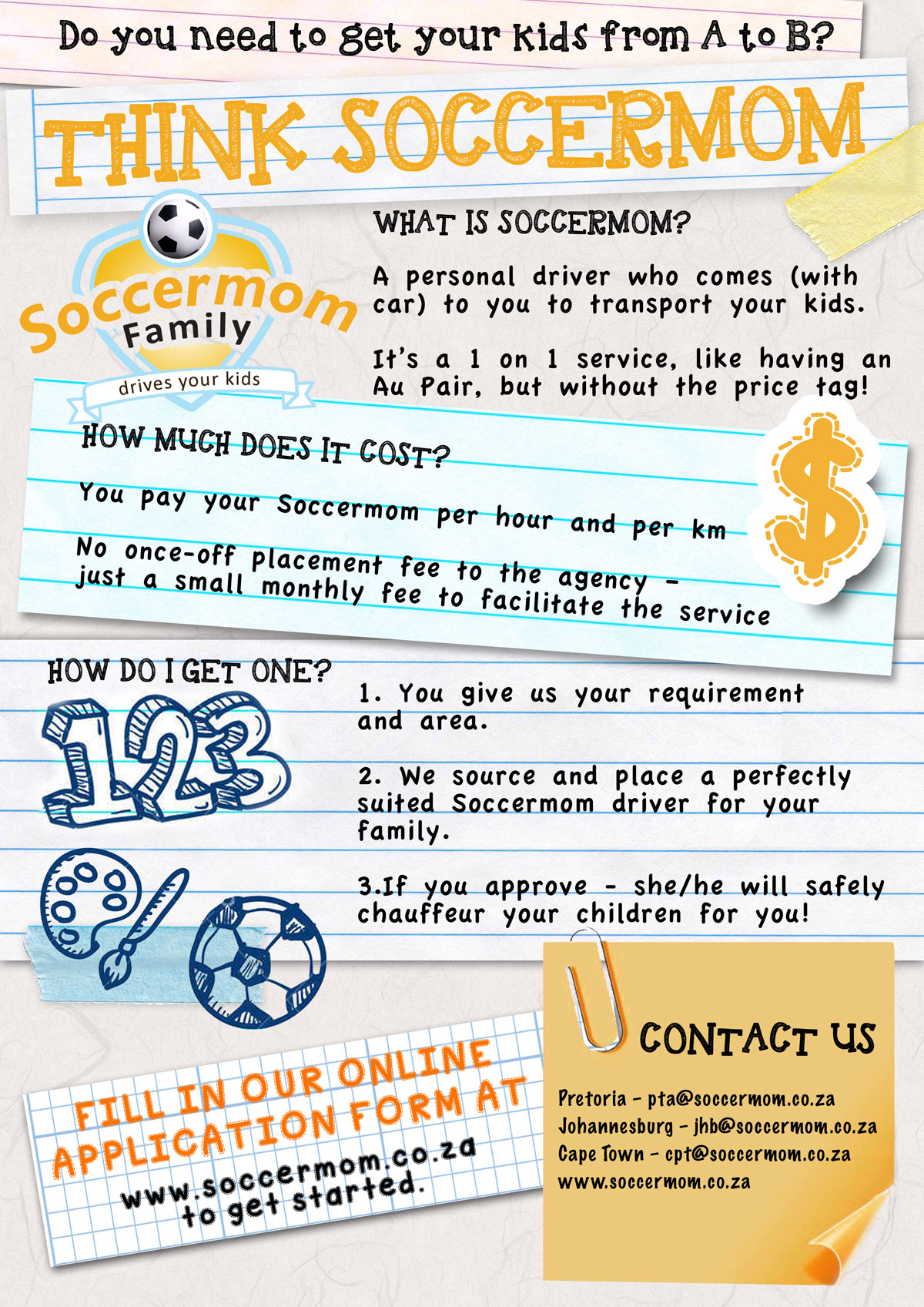 _______________________________________________________________________________
Testimonials
Hi Cherese, Thank you so much for assisting me. Kendal was absolutely wonderful…a star. Not once I did I have a problem and she was organised and on time. It was a pleasure having her drive (my kids) around. She is highly recommended!!! Ilonka, Johannesburg 2015
I never seem to take the time, but I would like to comment on Claire. She is truly a brilliant ambassador for Soccermoms and we value her so much. Just wanted to let you know that we are incredibly happy and so fond of her. Nothing is ever too much to ask and she is so punctual. Thank you for introducing her to us. Becky, Pretoria 2015
Simone is fantastic. I have no complaints only compliments. Lizette, Johannesburg 2015
Thanks and best wishes to you. Continue to do the wonderful work that you are doing. It's great to see how mums are relieved from the stress of having to pick up their children when they have to work as well! Oma (driver), Johannesburg 2015
Hi Cherese, Gugu is really lovely and the girls and I love her to bits. I really should have done this 2 years ago when I first looked into it. She is a huge asset to our family and is happy to do all she can to help out with extra lifts when I am ill or confined to bed which deserves extra cudos as I am ill fairly often. Anonymous, Johannesburg 2015
Thank you so much, the quality of the service I received was impeccable. Kind regards, Dr Caroline, Pretoria 2014
Thank you for your prompt response. I truly appreciate such an excellent service. It makes my heart sing. I hereby accept the quote. Please kindly forward me the banking details so I can deposit the registration fee. Is it fine if I pay the full amount in advance? Thank you once again. You are a champion! Pearl, Pretoria 2014
Hi Nicke, Everything is absolutely perfect. Thanks for the email. Kind regards, Natasha, Cape Town, 2013
I am exceptionally pleased with Sharon, she really went beyond the call of duty and looked after my girls so well. They built a wonderful relationship with her and ask me every day when they will see her again. I felt very secure knowing that Sharon was fetching my children, she really takes pride in what she does and is exceptionally reliable. Thank you for organizing everything and for the wonderful service that you offer, I will definitely be recommending Soccermom! Jenny, Pretoria, 2012
Not often one is blown away by efficiency and service - I can honestly say that your personal efficiency and willingness to assist together with the warm demeanor and professionalism of your staff has been a welcome change. Thank you for turning my "nightmare" into a "no problem". Belinda, Johannesburg, 2011
Thank you Ardin. I am already talking to Ronelle about using Soccermoms in Cape Town, I am really sold on your company and have been singing your praises to everyone. Tracey, ex-Pretoria, now Cape Town, 2010
___________________________________________________________________________________
More on Soccermom
Soccermom is run by a bunch of valiant female entrepreneurs. Our stories are all wholesome and real, and we understand the demands of running a household in South Africa. We are always here to assist you as much as we possibly can, ensuring you can rely on Soccermom for as long as you require the service.
We can assist with the safe placement of drivers for: lifts to and from school, lifts to and from extra-mural activities or lifts on weekends (paintball, movies, shopping etc). Placements can be made on a permanent or temporary basis.
We Chauffeur kids
We Shuttle kids
We Transport kids
(If you are a student/au pair/freelancer etc. interested in being a Soccermom driver, please click here).
_______________________________________________________________________________
Why choose Soccermom over other children's transport services?
We will take your requirement and personally find the best driver for you. We will listen, and discuss and ensure full peace of mind before anyone starts transporting your kids. You get to meet and approve the driver before any transport begins. Find out more here
Safe
The safety of your children is our utmost priority. Our candidates (Soccermoms) are carefully chosen, responsible and reliable drivers. Before presentation to you, all candidates are thoroughly interviewed, driver's licence checked, reference checked, road worthy checked, criminal reference checked (by request) and categorized according to their qualifications and age.

Reliable
Soccermom is a service orientated agency. We do not just place a candidate and then disappear. If you are unhappy with your driver, a replacement can be requested, at no additional cost.

Affordable
Soccermom ensures that prices are competitive and reflective of the excellence in service provided. Drivers are only paid for the service they provide to you.

Convenient
Our Soccermoms will assist Supermoms and Superdads in ensuring only the best for your children - while you continue your careers for your family's benefit. Gone are the days of waiting for crowded school busses/shuttles or arranging lift clubs in between meetings. Soccermom will assist you in optimising the time you spend at home, work or the gym, eliminating being stuck in traffic whilst transporting children with busy schedules.
We will always put safety first and keep you regularly informed on safety and security on the road. (Read our blog post on safety rules to follow in drop off and pick areas).
_______________________________________________________________________________
Are you ready? See our rates, contact us for a personalised quote or complete our application form. Let us assist you!